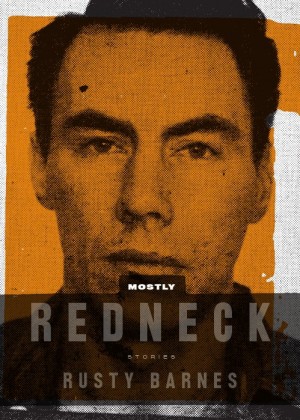 Mostly Redneck: Stories, is here, from sunnyoutside press. As you might guess, most of the book, 2/3 of it at least, maybe more, is directly in keeping with Fried Chicken's core values. I hope you'll pick up a copy. In the meantime, here are some quotes from very good and kind people.
It's not unusual these days to find folks who can write a gleaming sentence, a beautiful paragraph, a shapely scene: a multitude of MFA programs have seen to that. Rusty Barnes gives us the lovely language, sure, but he uses it to burn a hole through the apparent world, and to show us the world within the world that is thus revealed. Rusty Barnes can really see, and he teaches us to see as well, gimlet-eyed and unafraid. What a gift!"
— Pinckney Benedict
Ever feel proud immediately after a fight that you've won or better yet, one that you've lost? That's the same powerful rush Mostly Redneck will inject into you.
–Timothy Gager
These razor-sharp stories are gems that give us tough and tender characters who represent the best and worst of us, in prose so sharp and inventive that we're shown a sky "the color of an old dog's mouth" and discover Saddam Hussein selling hot cashews near Faneuil Hall. Mostly Redneck is a lovely, raw collection about the wondrous nature of everyday life in all its beauty and ugliness.
–Silas House
Review and Excerpted Reviews:
Mostly Redneck: Stories
Rusty Barnes. Sunnyoutside, $18 trade paper (156p) ISBN 9781934513323
Barnes' collection of stories about his native Appalachia is a case study in economy–each word has been honed and sharpened to a point, enabling him to efficiently create a sense of place. It's a fitting match for this assortment of murderers, musicians in small-town cover bands, and ex-cons who fell short of the brass ring that make up this collection. Whether he's writing about a character forced to put down his ailing dog or Saddam Hussein peddling hot nuts outside Boston's Faneuil Hall, Barnes treats his characters with reverence, giving them a depth and history that complicates stereotypes. Barnes' study of the everyday grind that never goes away is an impressive, powerful piece of work. (Aug.)
"Story wise, if you can take a punch in the face and be able to brag about it, this is where it's at. Teen pregnant lovers kill the fathers of their babies. People party and have sex in the woods. Scores are settled in complete beat downs. Women compete against each other for men and their own self-worth. Men want women that are unavailable or they hit the road and never come back, leaving others destroyed. . ."
"This and seventeen other short stories are told in direct, no-nonsense prose and rely on each other, creating an overall personality for the characters in the collection: observant, not directly in the action, impacted but separate. This collection is best read in a few bursts, perhaps alongside a novel, but not all at once. Each character and story has a weight which makes this impossible in a pleasing way."