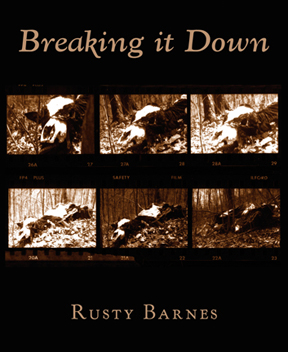 Blurbs:
"The jolt of this slim, intense collection is bracing. Barnes's narrative art is as masterful as his vision is profoundly honest and humane. His characters, like Robert Frost's, are mainly rural, poor, and farm-bound, and yet their agons are those of classical tragedy. Voicing these inarticulate characters with image, gesture, and narrative eloquence, Barnes opens the core of their imagined lives."
—DeWitt Henry, author of The Marriage of Anna Maye Potts
"The stories of Rusty Barnes are short, sharp, and shocking in their humanity. His characters are like sad love songs, sweet and full of hurt."
—Steve Almond, author of (not that you asked) and The Evil B.B. Chow and Other Stories
"Rusty Barnes is as comfortable writing from a child's point of view as an adult's or an old man's or a woman's, young or old. Behind all his characters, though, there's a quietly humane authorial presence interested in exploring our frail humanity in a way that reminds of the early work of Raymond Carver. Rusty Barnes is his own writer, though, and his flash fiction is terrific."
—Edward Falco, author of Wolf Point
Visit Sunnyoutside Press to order Breaking it Down. Or you can use Amazon. The official release date was November 8th, 2007. You can read reviews at the Sunnyoutside Press site.
If you'd like a signed copy, send me an email asking if I have any books. Sometimes I do, sometimes I don't. We can work out the payment details over the email.