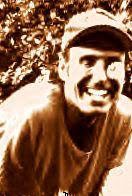 Dennis Mahagin lives in Washington state. He writes poems while listening to a mixtape of Fugazi tracks and sea shanties sung by European and South American soccer crowds. He has twice been caught crying while watching To Sir With Love. He thinks Facebook just may be the Matrix. Dennis is a panhandler who begs no quarter. His chapbook FARE was published 6/11/12.
Blurbs:
Dennis Mahagin is a shape-shifter of a poet. He's as likely to teleport the reader into the back seat of a cab next to a sex worker as to eavesdrop on Ted Hughes and Sylvia Plath raising hyper-verbal swords over a Sunday morning crossword. A protean talent, Mahagin waves his Northwestern flag in the Portland poems, and notably, a tour de force love letter to Ken Kesey through the prism of a classic Paul Simon song. When a poet plays the tour guide – as this one does – the reader's trust is key, even if the facts are improvised. If any of this is made up, I don't care; it makes me believe again in the power and glory of the lyric impulse, without having to root around in the past.
-klipschutz, author of Twilight of the Male Ego
Fare is a daring collection of sexually transgressive poems whose speakers, famous and not, are frank in their want, even when they don't know what they want.
– Kyle Minor, author of In the Devil's Territory
Out of print.