Papaw's ranch ain't so much a ranch
but a two man operation with his neighbor
Terry, whose wife is also named Terry,
just two men rubbin pennies, joined
by fences mended with zip-ties, where
strung-out race horse rescues populate
junked-fields & hunting dogs are kept
hungry for the let-out in cages intentionally
hidden behind the barn for fear of PETA or
a stand-in mailman who might be canine
sympathetic, where frog ponds ain't real
ponds but broken field tiles filled-in
with coffee-colored water as to not be a hazard,
though the two's perception of what a hazard
is, or isn't, is one of the many things you'll
soon learn not to trust, like when Terry
tells you to point your tally-whacker at
that third-wire, you don't listen & if you do
you won't again, or if Papaw tells you
to drink the Kool-Aid from his spittoon,
you don't listen, & if you do you'll spend
the rest of your life trying to forget the taste
of another man's stains.
//
Before he hands over the cattle-prod, he zaps it twice to remind
you of the power you're about to hold, mulberry pie lingers
in his dentures from your annual bloodmouth breakfast, a fun
tradition as you recall—press it to hide, he says, get it to move.
//
After Papaw's second heart attack, after
Terry took up drinking when female-Terry
left him for a man they both called a word
Meemaw wouldn't allow spoken inside
the house, you spend your summers
mowing, shoveling, listening to the radio
spill racism & spitty fear, cloppin about
in mid-high muck boots past your knees, proud
of the tractor keys in your pocket, the camel
on the keychain is smoking a cigarette,
but you consider him a friend, looks friendly
enough, you learn a lot in these summers,
the taste of Old Milwaukie, about shanks
& jiggers, why shotgun shells are red,
that drinking cold chicken broth from a thermos
will keep you hydrated while you search
for castellated nuts with a metal-finder, the ranch
becomes a three-man-operation, as they start
to call it, even let you sit on the porch as the two
of them croak at the moon like frogs
in a whiskey-lingo you pretend to understand.
//
You awake to a flashlight in your face, predawn shadows moving,
by this time you know the drill, the pie for breakfast, the zap, zap,
get the beasts to move while they're still sleepy—wait for the Semi.
//
It's Labor Day weekend, your last week
on the ranch before starting sixth grade,
you've been practicing your locker combination,
the satisfying click-pop like driving
a nail into new-cut wood, Terry wants to ship
the cattle early this year, says he needs the money,
& by this time you've made enough mistrust-
mistakes that you've started asking questions,
you want to know where the cattle go after
the round-up but Papaw refuses to say, so you ask
Terry, & Terry says to hop in the pick-up
when he goes to get the money, so you ride along,
following the 16-wheeler carrying all forty
of the furry Herefords you've named,
you can see their eyes through the perforated
metal, same eyes watched you work all summer,
dumb as inbred retrievers, but always smiling,
& when you arrive, you realize real quick
some things are better left unknown.
//
You've seen enough sunrises to know a good one & you pray
that that morning it would be good, but it came blunt as hammer
to skull, just a sneeze of light, not a smear of color—see that boy
leaning against the fence asking for forgiveness? that's you.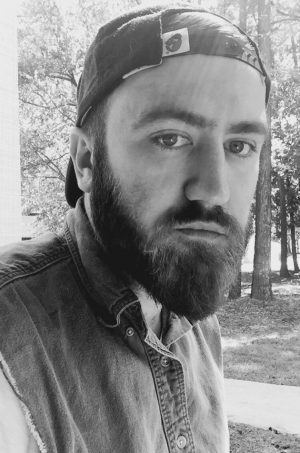 Mathews Wade was raised in Hilliard, Ohio, and is currently working towards his MFA at Columbia Univeristy. He is the winner of the Academy of American Poets Bennett Prize, 2016.