Our Com­plaints & Ques­tions Bureau
is based in the bot­tom of a dry well. We will
help you down there if you wish to file
a report on my asso­ciates' con­duct.
Which creek-bed is your favorite?
We'll mud you in, blame acci­den­tal caus­es
if ever a fish­er­man snags on an ankle. It's sim­ple.
There're zero mur­ders on the books in Trin­i­ty,
though dying strange ways trumps the totals we lose
to nat­ur­al old age. We're the law they'll call
to solve your mys­te­ri­ous dis­ap­pear­ance.
That's what hap­pens if once we think
you aren't with the pro­gram. Nod twice
if you track my mean­ing. Promise silence
and the tape comes off. The ropes.
We nev­er had this friend­ly con­ver­sa­tion.
Go on with your nor­mal day
and let's not talk again.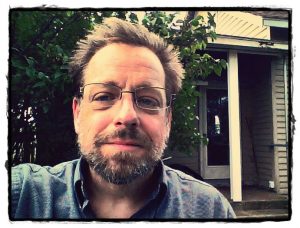 TODD MERCER won the Dyer-Ives Kent Coun­ty Prize for Poet­ry in 2016, the Nation­al Writ­ers Series Poet­ry Prize for 2016, and the Grand Rapids Fes­ti­val of the Arts Flash Fic­tion Award for 2015. His dig­i­tal chap­book, Life-wish Main­te­nance, appeared at Right Hand Point­ing. Mercer's recent poet­ry and fic­tion appear in: Bartle­by Snopes, Blast Fur­nace, Cheap Pop, Eunoia Review, The Fib Review, Flash Fron­tier Mag­a­zine, Fried Chick­en and Cof­fee, In-flight Lit­er­ary Mag­a­zine, The Lake, The Mag­no­lia Review, Soft­blow Jour­nal, Star 82 Review and Two Cities Review.