The Holy Roller Church of Ser­pents
is set in a notch of a steep knob. You cross
a rope-bridge to get there, remove
your think­ing cap to roll with the irra­tional
spec­ta­cle when Rev­erend Right­eous
taunts the snakes, tests his faith against ven­om.
He pro­vokes and wor­ries a pair of rat­tlers
held in each hand, stokes the back­woods
parish­ioners with his calls for sup­pli­ca­tion.
They fall into the aisles, shout­ing gib­ber­ish.
The hiss sharp­ens before one sinks fangs in,
poi­son doing what it's known to do. Here's hop­ing
a con­fed­er­ate milks these mon­sters
before the ser­vice, a mea­sure of dilu­tion.
Some­one asked the Rev­erend if belief
was suf­fi­cient fix. Should they sum­mon EMTs?
He let the Almighty save him,
but Dar­win­ism culled him from the herd.
Amen. Self-select­ing know-noth­ings
pick up those dropped snakes, they tempt fate
fur­ther, slain in the spir­it, rolling.
Now and then one's lit­er­al­ly slain.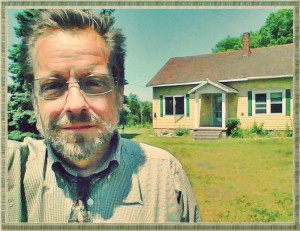 TODD MERCER won the Grand Rapids Fes­ti­val of the Arts Flash Fic­tion Award for 2015. His dig­i­tal chap­book, Life-wish Main­te­nance, appeared at Right Hand Point­ing. His sto­ry, "Because Hip­sters" was read at Liars' League NYC. Mer­cer won the first Wood­stock Writ­ers Festival's Flash Fic­tion con­test. Mercer's recent poet­ry and fic­tion appear in Apoc­rypha & Abstrac­tions, Bartle­by Snopes, Blast Fur­nace, Cheap Pop, Dunes Review, Eunoia Review, Grav­el, Ken­tucky Review, The Lake, The Leg­endary, Lit­er­ary Orphans, Main Street Rag Antholo­gies, Misty Moun­tain Review, SOFTBLOW Jour­nal and Two Cities Review.