First thing you notice is the col­or.
"Red" doesn't do it jus­tice.
This shade only exists in Tech­ni­col­or.
They haunt my dreams in late Feb­ru­ary,
when a foot of snow cov­ers the ground.
Not ruby, not scar­let, not car­di­nal.
"Puls­ing red" because they beat
like hearts on my plate.
There are four left.
Last har­vest of the sea­son
sit­ting on the counter.
I won't have the chance to taste them again
til next sum­mer.
The knife sings, ecsta­t­ic as it releas­es
nec­tar and haloed seeds.
First bite: rap­ture.
Sum­mer sun and rich soil
cre­at­ed vine-ripened ecsta­sy.
Sweet­ness of refresh­ing rains,
respite from 100 heat,
adds a grace note to the aria
burst­ing as I chew.
Far too soon, all that's left
is juice.
I raise the plate to my mouth and drink.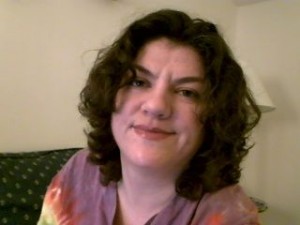 Jenifer Lee Wal­lace
is a writer and poet from St. Louis, with fam­i­ly roots in the farm­land of south­east Mis­souri.