They broke the apart­ment win­dow
and cleaned us out
while we were at work.
I feel vio­lat­ed
but the worst part about it
is all my bull­shit
about being on the edge of
soci­ety
seems pret­ty pale
next to these crim­i­nals
steal­ing to sur­vive
and sur­viv­ing well
putting me in my place
smack dab in the mid­dle
of the herd.
I had fat hang­ing from
me and they
came and chopped
it off.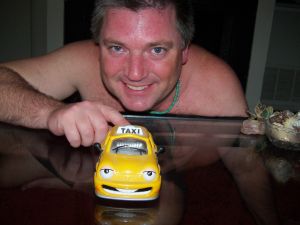 Math­er Schnei­der is a 40 year old cab dri­ver from Tuc­son, Ari­zona. He is hap­pi­ly mar­ried to a sexy Mex­i­can woman. His poet­ry and prose have appeared in the small press since 1993. He has one full length book out by Inte­ri­or Noise Press called Drought Resis­tant Strain and anoth­er full length com­ing in the spring of 2011 from New York Quar­ter­ly Press