Nicole swung around the corner of the café counter in her smooth way, balancing a tray of dishes and coffee cups, just right, before stacking everything in the bus tub. She wore the same tight-fitting white outfit she cleaned every day before she came to work at 6:00 AM. Two days ago, I'd seen everything she had. It was the first time.
She poured coffee in my thick mug, leaned in and whispered. "Don't look at me that way," her eyes ranging over the booths where men sat with their eggs and ham, scrambled together today on special for $2.95.
"Can't help it, baby."
"Come on Daryl. Not here."
"What am I supposed to do? Stop coming in?"
"And don't call me baby. You need more water?"
I shook my head.
"I get a break in a few," she said. "Only fifteen minutes."
The sports page said the Bulldogs quarterback was suspended for one game. He threw a book at his algebra teacher, it said. The algebra teacher was also his football coach, so that didn't work out. The Bullhead City Dogs were 1-3, going nowhere in the Inter-Valley league; Kingman, Bullhead City, Parker, Havasu. Needles. Shit, who wanted to live in Needles? Route 66 and all that nostalgia crap, like getting old somehow gets good at some point. Bunch of retired people clustered along the Colorado in mobile homes saying 'ain't life grand' while they played cards till they die on the porch in 110 degrees and go ripe all the sudden. It was better in Bullhead City. Casinos across the river, lots of young pretty girls, but I never had much luck with them. Pouring me all kinds of hand crafted beer at Joe's Crab shack─they called it ale─and the cute ones from out of the country with name tags that said where they were from. Exotic places like Caracas, Panama City. Sometimes I thought they wore them like those old stamps they put on luggage when you traveled. Slap a sticker on a suitcase like you'd been some place.
Later we sat outside on a picnic bench back of the café, up against the redwood table and the five gallon plastic pickle bucket full of sand and cigarette butts.
"I don't want some regular thing, Daryl. I like what I got and I don't want complicated."
"Don't call it no regular thing, then," I said. "Don't call it anything."
"I need this job, Daryl. Need it bad. I don't want nothin' getting in the way."
"Nothing gettin' in the way? Like me sitting there at the counter everyday eating breakfast? Leaving you tips?"
"No, not like that." Nicole leaned over to stub out a cigarette in the sand, her white uniform stretching across her back. I could see the clasp on her bra through the fabric and the one inch strap.
"You want to go to the football game Friday night?" I said.
"Football game? You mean here?"
"Drive down to Needles. Have dinner, watch the game. Needles has a real good running back. College scouts are watching him."
"Aren't you still doing that scouting thing?"
"Nah, not anymore. They got some new guy working Vegas to Parker."
"Mike asked if I could work standby Friday night. Fill in if someone calls in sick. I could use the money."
"I can help you with that. I told you."
"That was a loan, Daryl. The other night. I'm not taking no money for that."
"No, no. No. I'm not saying that. Look, you'll know about Friday night by what time, say five o'clock? I'll call you, see what you're doing."
Marty and Iris came around back to their truck. They both waved at us. Marty was a defensive back with the Dogs two years ago, all league his junior year until he broke his thigh bone, the big one, in his next to last game. He'd been putting on weight but still had muscle on him. Iris was carrying their first child. Due in a couple of months. They got in to Marty's black Ford F-150, rolled across the gravel and out to the highway.
"He was a pretty good player," I said. "Shame, though, the things that can happen to a guy. We just about had him signed to Arizona State. Next thing, it's over." Marty worked at the Golden Nugget, front desk. She stayed at home. Nicole wasn't much older, graduated a few years ahead of them both, really had no future, least that I could see. Waitressing. Cashing chips for drinks sometimes if a bartender was in a good mood. There'd been rumors that when she needed money she'd knock on doors outside at the Riverboat looking for guys. Didn't matter to me. I knew she was clean. I wore a condom. The only one I had, sitting in the bathroom drawer. They didn't go bad, I figured, even after six years. Not like that Grecian Formula I'd brushed through my thinning hair that didn't do shit. Squeezed it all out with an old bottle of Drano one day and the sink turned brownish green, like the edges of the Colorado in the warm pools that didn't get much flow in late summer. Where algae thrived. Bloated catfish floating upside down. The heat always won. It killed things in the water, not that anyone would call it that. But it did. Warm water killed fish. I saw them when I'd take the boat down stream where there used to be good pools, deep green and cool, and now were thick with scum and coiled up fishing line rising and falling in the ripples and fish popped up on the surface like corks.
Nicole pulled out a Benson and Hedges, flicked a compact lighter and exhaled in the dry desert air. Moist lip gloss left a faint red ring on the filter.
"We can take my boat," I said. "Nice run down the river, have a couple of beers."
"How we gonna get to the game, then?"
"Now you don't have to worry about that. I think we can get to the stadium all right."
"Like you've done this a few times?"
"Been to Needles on the boat, yeah. Never with a girl as pretty as you."
"I've seen some of those river rats on the Parker Strip. Those old broads jump in any old boat just to get some guy to buy 'em a drink."
"That's the fun zone down there. Jet boats, water skiing, all that river stuff's for tourists. It's okay, we can drive if you want."
"Boat sounds nice, Daryl. It really does."
"And you're not some old broad, Nicole. Not by a long shot."
"I'm a young broad, going on old. Come on Daryl, we don't have to kid around about who we are."
I put my hand on her shoulder. She placed her hand on mine for a moment, then took my hand and put it back on the table. She smoked. I never smoked much, but I always wanted to when I'd see her with a cigarette. Everything seemed to stop when I was with her. Time. Age. The epochal journey of water down the river that was steady just about all the time. I'd stop thinking about where all that water ended up, run-off in canals and ditches and irrigation for crops and nurseries where plants and palm trees and shrubbery grew before being loaded on a truck and planted in some California housing tract. In someone's front yard, shielding the neighbors and the street, not where kids played or climbed trees or anything, that wasn't done much anymore.
Nicole had slid on top the other night, doing most of the work, and she stayed right there after she gasped and threw her shoulders back, straddling, knees up, and asked me to hand her a cigarette. I lit one for her and she stayed locked in, smoking, while I squirted lotion on her breasts and rubbed them lightly. She made a humming sound, giving off smoke signals that drifted up before getting chopped in the ceiling fan. From every angle she was near perfect, and I wondered when it was over for a girl like that, when things began to peak, when the cigarettes and trailer nights and clinging motorcycle rides started wearing down the clean effervescence, when beauty products started making sense. She liked the lotion application so much she turned around, set that magnificent hind side in my face and put the tube of lotion in my hand. I did what I was told. That was when time stood still, when I was bullet-hard and she kicked the primer on and we exploded together in the chamber, firing in unison.
In the morning she got up and made coffee while I lay in bed. She showered, maybe ten minutes, then stood in front of me in her smooth white outfit and pulled her black sheer panties out of her purse, and dropped them on my face.
"Bye, Daryl," she said. "I'll see you around." I was in the café two hours later having a sausage and bacon omelet, extra cheese.
* * *
Buddy's River Supply had most of what I needed. If Nicole couldn't go Friday night, I'd have a cache of things I could use anyway. Beer, suntan lotion, baby oil, a new Styrofoam cooler that would hold a six-pack or two. An extra fishing pole with Buddy's special lure, a three inch pink plastic wiggly thing I figured would at least get Nicole thinking.
"You going out for more than a day there, Pard?" Buddy leaned across the counter with his palms flat on the glass, in front of racks of fishing poles, landing nets, boxes of bait.
"Don't think so. Could, though."
Buddy shook his head. "Better put in some food. She like to make breakfast out on the water?"
"Who said I'm going with anybody?"
"You haven't been out on the water all year. Least you said that, last time you were in here. New fishing pole? Cooler?" He shrugged his shoulders.
"I gotta try out a couple of new lures. See if you're on the up and up, or still ripping off the tourists."
"Hey, none of my fuckin' business what you're doing out there. Get what you need. I'll be over here." He jerked a thumb to his right, down at the end of the counter. Two men were waiting, heavy set, gray beards, bandanas tied around their thick necks.
Out on the floor in the fishing section there were more lures and plastic bait hanging on hooks, piled in cardboard boxes. Some were scattered on the floor like a kid had plunged in, flung a handful around and left them on the tile.
A nice Hudson's Bay blanket was folded on top of a stack of cheap cotton t-shirts. I picked up the blanket, thick wool, the trademark green, red, yellow and black classic design. It was warmer than the old faded blue Montana State Football windbreaker I kept on the boat. It wouldn't get cold tonight, not on the river after the game. But it might cool down enough to need a blanket if we stopped for a while, had a beer, listened to the crickets chirping along the banks and watched for bats flying around on the night shift.
Misty's Adult Delights was two blocks down the street. I'd go over there after finishing up at Buddy's. No windows in the front. Rear entrance. Dirt parking lot. Not a lot of ways to go in a shop like that without someone noticing. When I'd called over there this morning, some guy answered the phone. I hung up without saying anything.
Ryan came down the aisle at Buddy's holding a huge black night crawler. "This what you're looking for Old Man?" He pushed the jiggling rubber worm in my face. I pushed it away.
"That what you use, Stud?" I said.
"Don't need nothing, Daryl. Don't use no lures."
"Catch and release?" The corner of my mouth curled. "Let 'em go when you're done?"
"Three or four days, sometimes. Let 'em thrash around a bit. Brush those little gills. Throw back what I don't need."
"Makes you proud, doesn't it? I mean, having enough to go around. River's like that, isn't it?"
"Old Man River. It's endless. Endless supply. It just keeps coming at you. Never know what it'll bring."
"Fish bite if you got the right bait."
Ryan got up close. I could see the day old stubble on his twenty-something face. "Heard your bait's a little worn, there, Old One."
"Heard that, did you? Hard of hearing, too? Knew you couldn't read much, at least not the papers. News-papers. You wouldn't know all the things they pull out of the river when they drag the bottom."
"Spending a lot of time at the Café, is what I'm hearing."
"Now why would you bring that up?" I stuck my index finger in Ryan's chest. "Impress me with your knowledge of local gossip?"
"Anybody in particular over there?" Ryan said, pushing my finger away. "Somebody I know?"
"Catch and release, man. You had your limit."
"Got that right. Anything under six inches," he held his palms together inches apart, thumbs up, "women throw 'em back."
"Let me see that jiggly thing you were holding." I put my hand out. He dropped the crawler in my palm. I looked under the legs, on the bottom, put the black rubber amphibian up in front of my eyes. Then up to my nose. Took a deep breath.
"Might work," I said. "I'll take it." I pulled the Hudson Bay blanket from the rack, put the night crawler on the red stripe and walked down the aisle to the counter. Ryan followed me. I put the blanket and the crawler in the cooler, along with a package of 'D' cell batteries, the lotion and baby oil and grabbed the fishing pole case and held it all in my arms.
"Put everything on my account," I said.
"You don't have an account here, Old Man."
"Start one." I walked out of the store.
The thermometer in front of Mission Bank said 102 F. It was eleven-thirty in the morning. Misty's was on the next block. The back door stuck so bad I had to pull with both hands, making a squeak loud enough to be heard at the front of the store. Like it was the door alarm, instead of chimes to let staff know a customer had entered the property. I stepped in and walked down the hallway passed the bulletin board full of pull-off index cards with names of lonely men and women, phone numbers promising anything from expert 'cleaning services' to out-and-out whoring. The hot corners of Nevada and Arizona promised chance encounters, fringe benefits for those who ventured beyond the state lines of California and Utah. Cops paid no attention, their hands full with men on the run dealing meth, bad checks, stolen pistols, hijack bounty transferred from big rigs to pickups rolling around back roads. Most men who took part in the tear-off index card bonanza were old and harmless, escaping the rut of later life for an hour or two in a secluded trailer.
The sex industry was alive and well at Misty's. The old back room emporiums with bad lighting had modernized into a pink and purple plastic shrink-wrapped display-case paradise of products that at first glance, didn't look much different than a section of Toys 'R Us. The last time I'd been in I was looking for flavored condoms—banana, if my memory served—'for the nutritional value', my partner said, smiling through parched lips that needed a smear of Carmex. Now I needed the biggest battery operated crank toy I could find, something to rock the boat, get a laugh and a moan at the same time, relieve the tension and the pressure. Put things in my own hands, where I was best, and not down at the gut level where anxiety ruled. 'That's why God created batteries', one old broad at the counter said, laughing, when I bought a piece I had to throw out later when it leaked day-glo coloring after a couple of times with a Keno girl from Harrah's. The Keno girl and I could both see in the dark for a while, drinking tequila shooters and passing out on the bed in the steam heat of an Indian Summer on the river at four in the morning.
Cash was the ticket at Misty's, no credit card trails showing up on American Express for 'merchandise' billed to some P. O. Box. Amex reps knew the dark side of goods and services. The man at the front was heavy, wore a long-sleeved red plaid shirt with a pocket protector, his face half-way between needing a shave and a sorry attempt at a beard. He put everything in a black plastic bag and handed it over the counter with his head down and his finger following a magazine article in American Handgunner next to the register. He wasn't much older than me and it made me wonder.e wHe
Outside in the parking lot the heat shimmered in waves and I got in my Jeep Wrangler and started moving to get the air flowing. I pulled into my carport and opened the slider to the double-wide, listened for the beep of the message machine. Two calls.
"Daddy, I hope you're doing well. Is it hot there? St. George is dry, lots of tourists. I'll be through with the semester in a couple of days. Can you come down? Love you. Oh, it's no big problem, but Ben needs his shots, and, well, you know. If you can help. Bye Daddy." Ben was my grandson, Kelly my daughter. No son in law in sight. Not in my sights, anyway. Nowhere to be found. Nicole's message said she'd meet me at the boat dock around three. Did I want her to bring some fried chicken or chips? Either was fine, she said. I called her back and left a message for chips. Waited a moment, then said bring some fried chicken too. Mike made a good batch when he wasn't drugged up on prescription pain medication he said he had to take because of his back, strained and pulling apart from the years on the grill. Mike was another one, on and off, day to day, ran his café like it was a garage sale, putting out everything he had in the morning on a breakfast buffet and letting the regulars pile through looking for gems. They were there, like his fried chicken, the omelets on the regular menu he put together like a teppan grill master, banging pans and chopping ingredients folded into fluffy fresh eggs sautéed in butter. He laid a plate in front of me one morning when it was early, Nicole was off and no one was sitting at the counter. Looked both ways, right out of a 'B' movie, offered me a little .32 caliber pistol he said he'd only shot a couple of times outside his ranch house on two acres up on the bluff. Needed a little change, cash, scratch—he'd used all three words—and pulled the wooden grips out from his apron two inches before I said, Gee Mike, been thinking about one, heard they were pretty good little shooters when that guy on the radio was talking about it on his gun show, but hey, no thanks, not right now. What is this today, looks like spinach and swiss, and mushrooms?
Florentine, he'd said. Florence is big on spinach and mushrooms. Eye-talians, he said, and I thought everything they made had tomato sauce.
"Look at you," I said. Nicole stood on the wooden dock in tight black bike shorts and a white stretch belly shirt holding a wicker picnic basket with a red checked gingham cloth folded on top. "Here, let me help you." I stepped off the boat onto the dock, touched her arm with my hand. Her eyes matched the color of the river and a puff of breeze was tobacco laced and made me want to inhale hard. There were women who wore faint perfume traces mixed with cigarette smoke that lingered in your mind for years. She would be one of them, a drop of Opium under the ear and a Benson and Hedges were enough to make a man drop to his knees, confess sins of lust and loneliness and beg at the same time for more of that damn pain.
I took the picnic basket handle in one hand and Nicole's slim fingers in the other and guided her aboard the 23 foot Regal.
"Here," I said. "Hand me those sandals. Look great on your feet, but they're no good on deck." She reached down and handed me the thin-strapped flat thongs. I stowed them in a side compartment. I found some old boat shoes, a couple of sizes too large but they'd keep her on firm footing.
"These don't look too sexy, do they?" she said.
"You've got more than enough. Go barefoot if you want. There's no waves out there. But if a jet ski sprays the boat you don't want to go down."
"I might want to go down."
I slapped the soles of the thin-strapped shoes together, made a whack. "Then we'll put the sandals back on."
"Ooh."
How she'd look at a high school football game in neoprene bike shorts and a lycra stretch top, I'd worry about later. If we ever made it to the game. I gestured to the bench seat and Nicole laid out, her ruby pink toes against pearl white Naugahyde. I went below and stowed the picnic basket, put the chicken in the fridge and pulled out two Buds and cracked them open. I came up and handed one to Nicole.
"Cute hat there, Daryl."
"Miami Vice special." A lime green long-billed fishing cap. "Picked it up in the Keys."
"Lot of vice down there?"
"No more than here," I said. I switched on the ignition, fired up the Volvo turbo diesel into a low rumble of pipes burbling underwater. I thrust the boat in reverse, turned around, started the slow move out of the slip into the channel that led to the river. Nicole had both hands around the neck of the Bud, lipstick matching all of her ruby red nails. I punched up the CD player, scanned to a favorite Brazilian jam I'd scored in a South Beach record store when the manager said she knew the rhythm guitar player, handed me a set of headphones and said 'check it out'. The Regal had decent sound. I kept it loud enough to match the sound of throbbing diesel without raising the red flag of 'party boat, party boat' that marked the amateurs. We settled in to a slow cruise and came out past the row of casinos across the river in Laughlin, cash machines without the high gloss of Vegas but just as profitable.
"Tell me how to fish, Daryl."
"I can show you. I brought a couple of poles."
"I don't actually want to do it. Just tell me."
"Come on up here." I gestured to the padded swivel cockpit chair next to me. I pointed to the drink holder. Nicole sat down, crossed her brown legs at the knee and put the Bud in the holder.
"You don't fish up here, do you?" she said.
"No. I tell you how to fish up here."
"This is nice. Up high, nice music. Do you get out on the river much?"
The throttle inched forward when I pushed it, the diesels growled, the bow lifted and the boat settled into speed.
"I get out, cruise a little. Used to go out all night when I first bought it."
"Back when you were married?"
I looked at her. "She took the house, sold it. The market was moving up. I kept the boat. No, she never went out with me. My daughter did. She liked to chase the gulls in the morning, swerve the boat around like she was in the driveway on three wheels."
"You miss her?"
I nodded, said 'yeah' under my breath.
"Think you'll ever get married again?"
"Freedom is one of the things I do best. Why would I want to spoil that?"
"Freedom's just a way to say lonely."
"I never feel alone on the water. Even when there's no one on the boat. I can go into a Starbucks with people all around and not speak a word. Out here there's the boat to concentrate on, the water, what's on the banks, casinos, other boats. Get to a fishing hole and drop a line."
"Friend of mine says men go fishing so they can get away from women who talk too much."
"Men go to get away, period. Most of the time we have no idea what we're getting away from, but we know we need to do it once in a while."
"Do I talk too much?"
"Uhh." I shook my head, smiling. "No. Hand me one of those cigarettes."
"Last time you lit one for me, you remember that?"
Nodding. "You know you may look like one of those mermaids out here on the water in that sexy outfit but I don't know how that goes down on a high school football field. Do we need to stop somewhere and let you change?" I looked over at her, hands locked around her knees propped up on the leather.
"I don't know. Do I?" She handed me a cigarette. I didn't light it.
"Dinner somewhere?" I said.
"We don't have to do nothing fancy. Burger King is okay. I serve diner food all day. Don't matter to me."
She wore what every girl in town her age wore this time of year. Barely something, nobody cared. She couldn't have folded jeans or a blouse in the clutch hanging on the arm rest.
"So you going to tell me about fishing? Then we go to Burger King, Denny's, some place they let people dress casual, go to the football game. What else, Daryl?"
"You want to steer the boat."
"You're doin all right. Don't need me to screw it up."
"It's easy. Here. Step over here." She stayed right there in the bucket chair, knees up, fingers laced. Looking at me with her green eyes, sandy brown hair flipped to one side. She brushed it away and cocked her head, turning back to me.
"I know what you want, Daryl. I don't know if it's the same thing I want, though."
"I got a couple things. Things for us to try. For you, actually."
A big white stucco casino spread out on the Nevada side, a mile south of the main strip in Laughlin. There was a fishing hole on the west side and I steered the boat in a smooth turn, the Regal tilting so Nicole was slightly above me.
"I don't need no toys, Daryl. You're fine. We don't need that stuff."
We hugged the bank, slowed down, the bow lowering and cutting the water. I stood up and looked over the wind screen. The canvas top would be nice now, I thought. Cover up the cockpit, shield us from the blazing sun.
"You want a beer?" Nicole said, getting up from the leather bucket.
"Uh huh." I throttled down to idle, stepped to the starboard hull and began to pull up the framework for the canvas. The rigging was tight. I worked it into place, put my hands on the back of the captain's chair and stepped around the back of it to port and grasped the metal tubing until the hinge loosened, straightened out and held in place. Nicole's arm came around me holding a Bud and she pressed her breasts into my back, hugged me around the waist.
"You going to tell me how to fish, now?"
I turned around. We clinked bottles, taking pulls on the end of the long neck.
"There's the easy way, drop a pole with some kind of bait, whatever you've got around and prop your feet up. Then there's the more scientific way. Learn about the fish, when they feed, where, find the bait and find fish. Hook fish. Catch fish."
"Daryl?" She looked at me with her green eyes, sheen on her forehead.
"Yeah?" The Regal rocked in the wake swell rippling across the water from a jet ski.
"Are you going to put the canvas up? If you are, I'm going to get comfortable. Is that okay?"
Black canvas stretched out over the aluminum frame and it buttoned down, leaving room on both sides for air flow. I opened the Styrofoam cooler on the deck, poured the two ice bags inside and went below for more bottles of Bud. The cooler held ten bottles. Nicole had her legs together on the white naugahyde, her arm on the gunwale, her bike shorts and white lycra top folded at the end of the bench seat.
I left my canvas shorts on, dropped the turquoise fishing shirt on top of her pile of clothes and sat down next to her, gently cradling her head until it dropped on my thigh. I touched her forehead with the bottom of a cold bottle. She let out a sigh. The samba jam was congas and marimba now, the sounds of soft hands drumming on stretched skin, rhythm as old as man.
"What's the next rule in fishing?"
"Make it last as long as you can."
"Can we do that?"
"We're going to try."
"As long as we don't call it no regular thing, Daryl."
"This is far from a regular thing, my dear."
She leaned her head up, turned around on her hands and knees, kissed me on the lips and put her bottle down on the deck.
I have a background in sports journalism and have hosted television and radio shows, and written feature columns. I've written and broadcasted sports news for over twenty years. I'm also a veteran of the cable television industry, spending 23 years in Southern California and Colorado managing cable operations.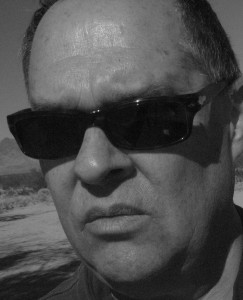 My writing has been featured in NoHoLA, Urban Living magazine, and I've hosted Inside Dodgers Baseball seen throughout Southern California. I blog at http://kurttaylor.blogspot.com/ and cover boxing for Saddoboxing.com.