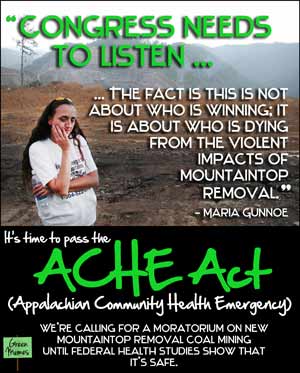 The only thing stun­ning about this is the years-long denial. From Huff­in­g­ton Post's Jeff Big­gers.
In a breath­tak­ing but largely over­looked rul­ing this week, a fed­eral judge agreed that the U.S. Army Corps of Engi­neers may dis­re­gard stud­ies on the health impacts of moun­tain­top removal min­ing in its per­mit­ting process, only two weeks after Gold­man Prize Award-winning activist Maria Gun­noe wrote an impas­sioned plea to Pres­i­dent Obama to renew with­drawn fund­ing for US Geo­log­i­cal Sur­vey research on strip min­ing oper­a­tions and redou­ble fed­eral action to address the decades-old human­i­tar­ian disaster.

The prophetic call for imme­di­ate fed­eral action by Gun­noe, a com­mu­nity orga­nizer for the West Virginia-based Ohio Val­ley Envi­ron­men­tal Coali­tion and a long-time wit­ness to the tragedy of moun­tain­top removal, has never been so timely. "Appalachian cit­i­zens are the casu­al­ties of a silent "war on peo­ple" who live where coal is extracted," Gun­noe wrote the pres­i­dent. "Cit­i­zens of all ages are dying for the coal industry's bot­tom line."
More.