Bobby woke in his truck, the rim of his hat pulled low to cover his eyes. Rising sunlight hit him full in the face when he lifted it. He winced, blinked until he could handle it, then reached for the warm bottle of water in the centre console. It was half-empty. He drained off what was left, but still his throat was dry. It burned, and it wasn't just his throat – everything else hurt, too. His right hand was swollen, the knuckles purple. He looked back at the bar behind him, the cars and trucks parked in front and around where he was near the bottom of the lot. In front of the building there was a row of motorcycles. A couple of bikers had fallen asleep in the saddle, and a couple of others were laying splayed on the ground or atop the benches on the sun-bleached grass.
Bobby got out the truck, stretched, then strolled up to the bar. It was dark inside, only a few lights on, but it was blissfully cool. The bartender looked up as he entered, raised one eyebrow. "We're closed," he said. He scowled. He sat on a stool behind the counter, reading a newspaper. His left eye was blackened and his lip had a split in it. He sucked on the cut.
"I can see that." Bobby took a seat at the bar. "You got water?"
"I said we're closed."
"You ain't gotta open just to give me a glass of water."
The bartender looked at him, his eyes hard, then put the paper down and went to the sink. He came back with a glass, handed it over. Bobby gulped it down. It helped, a little. His throat stopped hurting.
"Looks like someone did a number on you," Bobby said.
"Uh-huh. Ain't the first time."
"Deserve it?"
"Sometimes do, sometimes don't."
"In this instance?"
"You tell me, asshole."
Bobby held up his swollen right hand. "Your face did this, huh?"
"Yeah."
"I was wonderin."
"Wonder no more."
"I don't remember."
"No one does."
"Guess I should apologise."
"Save it. I don't give a shit."
"So what happened after?"
"Couple of the boys threw you out."
"I appreciate not receiving a beating."
"There's time yet."
"Sure. Well. Thanks for the water." Bobby turned.
The bartender called to him. "You brought somethin in with you."
"What's that?"
The bartender reached under the counter, produced a gun. He put it flat on the bar. Bobby looked at it.
"You threatening me?"
"No. It's yours. You came in here waving it round. I took it off you. That's when you started throwing fists."
Bobby stared at the gun. "That ain't mine."
"You brought it in."
"I don't own a gun."
"You did last night, and you do now."
"I don't want it."
"It ain't staying here. Just take the fucking gun."
Bobby reached out, picked it up. It was heavy. "What am I supposed to do with this?"
"Stick it up your ass. I don't care. Now get the fuck outta here."
Bobby checked the safety was on, then tucked the gun into his waistband and went back out to his truck. The night before was a blur. He'd gone out in the early afternoon with his father-in-law, to celebrate the old man's birthday. Somewhere along the way he'd lost him, but he didn't know when or where. He reached into the glove box, pulled out his phone. There were more than a dozen missed calls from Karen, his wife. She wasn't going to be happy. He braced himself, rang her back.
"Where you at?"
"Hey, you."
"Goddamn it, Bobby! You know how many times I called you? Where you at?"
"I'm on my way home."
"Uh-huh. You know where my dad's at?"
"Uh –"
"He's at home, asshole. Why'd you take his gun?"
"His gun?"
"That's what I said. Why'd you take it?"
Bobby could feel it, pressing cool against his stomach. "I – I don't know. I mean, why'd he have it out?"
"How drunk did you get?"
"Pretty drunk."
"And you were driving. You're in the truck. You know how dangerous that is, Bobby? You could've got yourself killed! You could've killed someone else!"
"Yeah, okay, but I haven't."
"That doesn't make it all right."
"Tell me about the gun, Karen."
"You don't remember?"
"No."
"Well. Dad said the two of you got drunk, then you went back to his place and you got this idea in your head to go out back and shoot bottles in the moonlight."
"Bullshit. I've never taken a notion to play with his gun ever before, why'd I start now? I reckon he's just blamin me, it's him, he'd've wanted to do that kinda thing."
"You remember that?"
"No."
"Well, he said you were real insistent on it. And I believe him, because once you've had a drink, you get somethin in your head – I know you, Bobby. Anyway, regardless, the two of you went out there, he left you with the gun while he goes and sets up the bottles on the fence posts, then he turns back and sees you running off. Why'd you run?"
"I got no idea."
"Have you got the gun?"
"Yeah, I got it."
"Just come home, Bobby. You can apologise to dad later."
"Sure. Yeah. Sure. I'm on my way."
He pulled out of the parking lot and headed onto the road. In the mirror he saw a couple of the bikers begin to rouse, stretch their limbs and climb onto their bikes, or off their bikes, depending on where they had woken. One of them stood to the side and pissed into the dead grass.
Bobby drove, still thirsty. His throat burned again and swallowing just made it worse. He thought about the night before, of the story Karen had relayed to him, but he remembered none of it. The mental images it conjured, however, brought a smile to his face. He chuckled.
He passed through a thick gathering of trees that sprouted up in the fields on either side of the road. Coming out from their shade, something caught his eye. A fire. There were kids stood around it. He slowed. The fire was raging, it kicked and thrashed. He stopped. It was a horse. The kids, five of them, stood and watched.
He jumped out the truck. "Hey!"
The kids looked up, saw him. They turned and ran. Bobby hurried after them into the field, then stopped. The horse screamed. It was the most awful sound he'd ever heard. He smelled burning flesh and gasoline. He looked at the horse, the heat bringing tears to his eyes. Its own eyes were gone and its lips had burned back to reveal gnashing teeth and a lolling tongue. Its legs were broken, all four of them. They'd been smashed so it couldn't run, probably with a hammer.
It continued to thrash, to scream. It pierced his ears, made his skin prickle and his teeth grind. He tried to block the sound with his hands but it came through. He was about to start screaming himself when he felt the gun still in his waistband. He pulled it out, shot the horse until it was dead.
Lowering the gun, he breathed heavily and watched it burn. Tears ran down his cheeks. There was movement to his right. He glanced. A kid stood beside him, red-haired and heavily freckled, wearing shorts and a grass-stained t-shirt. The kid didn't looked back at him. He stared at the horse. His mouth was twisted.
"Were you with them what done this?" Bobby said.
The kid nodded, once, very solemn. "I was with them," he said. "But I'm not one of them."
Bobby nodded, then turned back to the fire. The horse was just meat now. The flames were dying across its blackened corpse.
"Why'd they do it?" Bobby said.
"Because they had gas, and matches, and a hammer, and they wanted to watch it burn. It was an old horse, anyhow."
"That don't make it all right."
"I know it don't. What you gonna do about it, mister?" the kid said. "You gonna go after them?"
Bobby realised the gun was still in his hand. "No," he said. He wiped the tears from his face, and they stood together in silence and watched until the flames were gone, and smoke rose and curled from the charred and blackened carcass.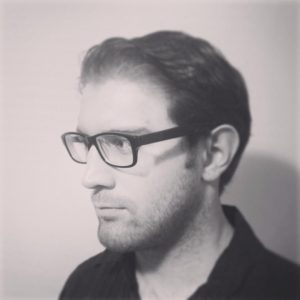 Paul Heatley's stories have appeared online and in print for a variety of publications including Thuglit, Spelk, HandJob Zine, Crime Syndicate, Plots With Guns, and Shotgun Honey, among others. He has six novellas available for Kindle from Amazon. He lives in the north east of England.