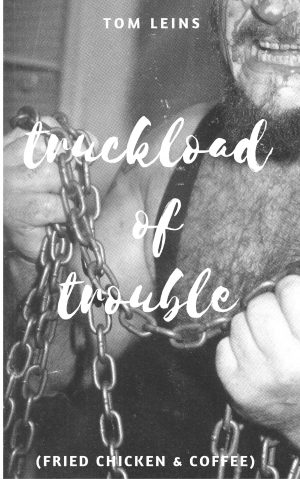 I hear the rattle of the tow-truck's rusted chain before I see it roll down the rutted track and into view.
The last time I saw the Mulligan brothers they hung a guy known as Blood Bubble from a hook by the roof of his mouth then beat him with crowbars until his pale skin burst. They left him hanging there when they had finished, and none of us had the nerve to drag him down. I still remember the queasy feeling in my gut when the dead weight got too much and his brainstem cracked. He lay crumpled in the dirt like an old fast-food wrapper, fluids turning black in the afternoon sun. Not even the dogs went near him.
I never even found out what he had done.
***
The Mulligans climb out of the cab, and squint at me like I'm roadkill–unidentifiable at first glance. James is the older of the two by a few years, fleshy and swollen-looking. He cracks the knuckles on his right hand, one at a time, and clears his throat.
"Lomax."
I nod.
They start to laugh, although no one has said anything funny.
"Your brother around?"
I look over my shoulder, half-heartedly.
"Nope."
My fuckin' brother. I couldn't care less about him and his clogged needles, his brittle veins, his junkie scams.
"You gonna pay his debt?"
I glance around the yard at the rusted engine blocks and broken-down machinery, then look back at James's bloodshot eyes.
He smirks.
My mouth feels dry, but I spit in the dirt anyway.
"Nope."
They laugh again. Louder than before.
I have no intention of making good on my brother's drug debts.
"You know, I was hoping you was gonna say that."
I also have no intention of taking a beating on his fuckin' behalf.
They edge closer to me. Up close, James looks far older. Prison was evidently bad for his health. He has a small crucifix dangling from his left earlobe, and gelled yellow hair.
He smiles fully, showing all of his remaining teeth, and fiddles with his earring.
"Brothers, huh?"
***
James Mulligan was incarcerated in an adult facility at the age of 14, after being found guilty of aggravated rape. He cut the girl up pretty badly afterward with a broken beer bottle, and left her crawling around the Slop Shop parking lot, leaking blood.
Everyone in Testament agreed that he was rotten from birth, but Peter, his little brother–he was different. He was sensitive, or what passes for sensitive in this town. A little slow, maybe, but likeable enough.
He trained alongside me at Shriek Watson's Ghoul School. Back then we were like crabs in a barrel. Every one of us was desperate to be the first boy out of Shriek's cavernous basement.
It was 1987. The hottest summer on record in Testament. Everyone in town wanted to wrestle for Fingerfuck Flanagan, in the Testament Wrestling Alliance, and most of us regretted it, one way or another.
Every few weeks Fingerfuck came down to see Shriek and watch us fight. He sat on a folding canvas chair, smoking his cheap cigars, watching us boys, slippery with sweat, jabbing thumbs in eyes, rabbit-punching kidneys and twisting scrotums–anything to get ahead.
I put a boy named Burrachaga in hospital–just to impress Fingerfuck. Tried to bounce him off the greasy brickwork and put a big old dent in his skull. Fingerfuck cackled with laughter, patted me on the back with a callused hand, and told me I would go far in this town.
True to his word, he gave me my shot. 19-years-old. Mid-card at the 'Slaughterhouse 4' pay-per-view. Got my ass handed to me by Tiny Diamonds in a Russian Chain Match. He choked me so hard with the chain that I shat myself, and I had to walk back through the jeering crowd, legs and boots plastered with dehydrated yellow shit.
It was three years before he offered me another fight. Burrachaga. Fingerfuck had injected him with so much Metandienone he had swelled up like the fuckin' Michelin Man. He beat me so bad I thought I was dead.
Payback, as they say, is a motherfucker.
***
Peter Mulligan was at the Ghoul School the day I busted Burrachaga open. I remember him vomiting all over his scuffed blue wrestling boots and passing out. Shriek's wife revived him with smelling salts. He never did make the grade, but he has evidently toughened up a lot since.
He is easily the larger of the two brothers. Well-built, but his gut hangs over his greasy jeans like a bag of grain. He circles me, unlabelled work boots leaving heavy prints in the dirt.
I hold my hands up.
"Let me just take off my wedding ring first. I don't want to dent it on your teeth."
He grins nervously at his brother, and James nods.
Fuck that.
I didn't even take off my wedding ring when I fucked their cousin Nikki. She had a slight overbite, and her pussy was constantly wet. Man, I would have gone to prison for that girl. Maybe not hard time, but I would have taken a jolt in the county jail for a sniff of her Friday night panties.
I make a show of taking off my ring, and turn slowly towards my truck.
I have a long-barrelled .38 under the seat.
I'm not even sure which one of these bastards I'm going to shoot, but the other one will be picking brains out of his hair all fuckin' afternoon.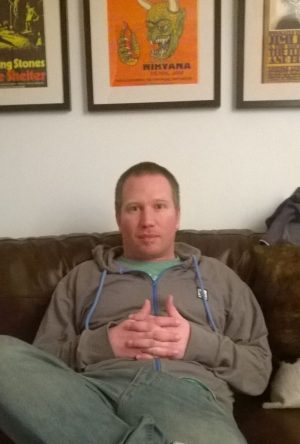 Tom Leins is a disgraced ex-film critic from Paignton, UK. His wrestling noir stories have been published by the likes of Out of the Gutter Online, Spelk Fiction, Horror Sleaze Trash, Five 2 One Magazine and Fried Chicken & Coffee. Get your pound of flesh at http://www.thingstodoindevonwhenyouredead.wordpress.com.